| | | | | |
| --- | --- | --- | --- | --- |
| Number of Participants | Facilitators | Category | Duration | Level of Difficulty |
| < 25 | 1 Moderator/10 Participants | Ideation & Prototyping Phase | As much as needed, can be long. | Simple |


Description
LEGO® SERIOUS PLAY® (LSP) is a moderated workshop where participants respond to tasks (given by the facilitator) by constructing symbolic and metaphorical models with LEGO bricks and presenting them to other participants. Compared with normal meetings LSP workshops results with an much higher participation of the group. It´s based on theoretical foundations such as: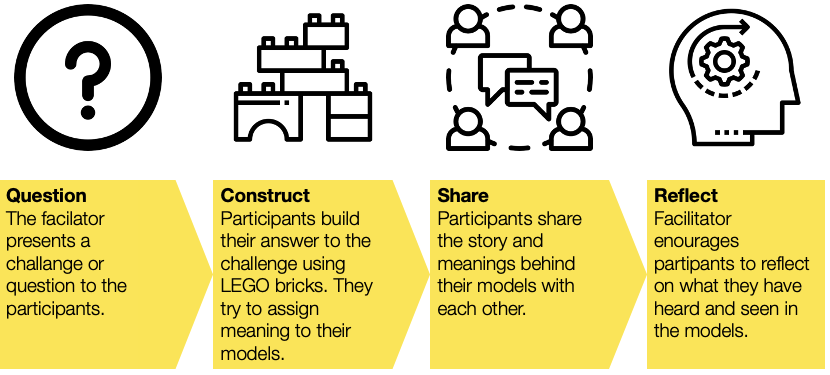 Storytelling & metaphors
Hand-mind connection
Constructionism
The flow model
Furthermore, LSP is based on the following basic assumptions:
Think with your hands
The answer is in the system
There is no one right answer
Every participant has a voice
Beside the bricks the LSP Core Process is the base of the method. It consist of the following essential steps:

The Core process is typically applied in 7 application techniques (AT). With every new AT, you go deeper and deeper into the solution finding process. The following process shows only the ideal workshop process. The application technologies (AT1-AT7) do not depend on each other. They can be applied independently of each other in any order. However, every workshop should start with technique AT1.
Materials
Bricks
Following you will find original sets & kits for LSP by the LEGO Group. The Kits are not essential but in general you will need a bunch of LEGO bricks to facilitate the workshop.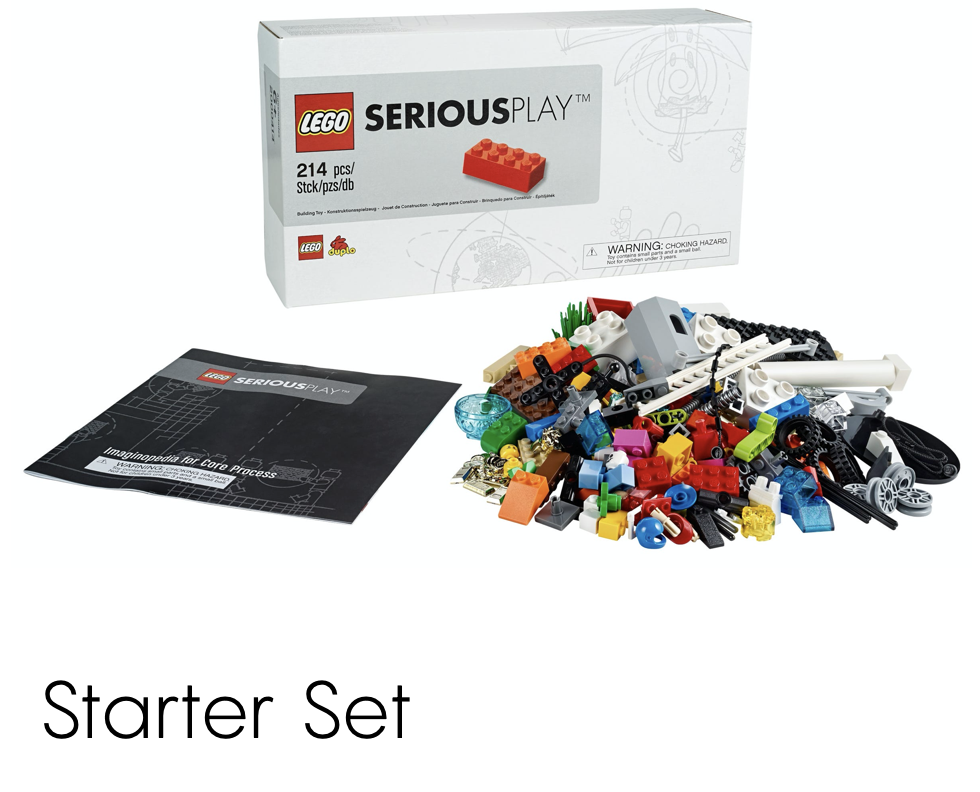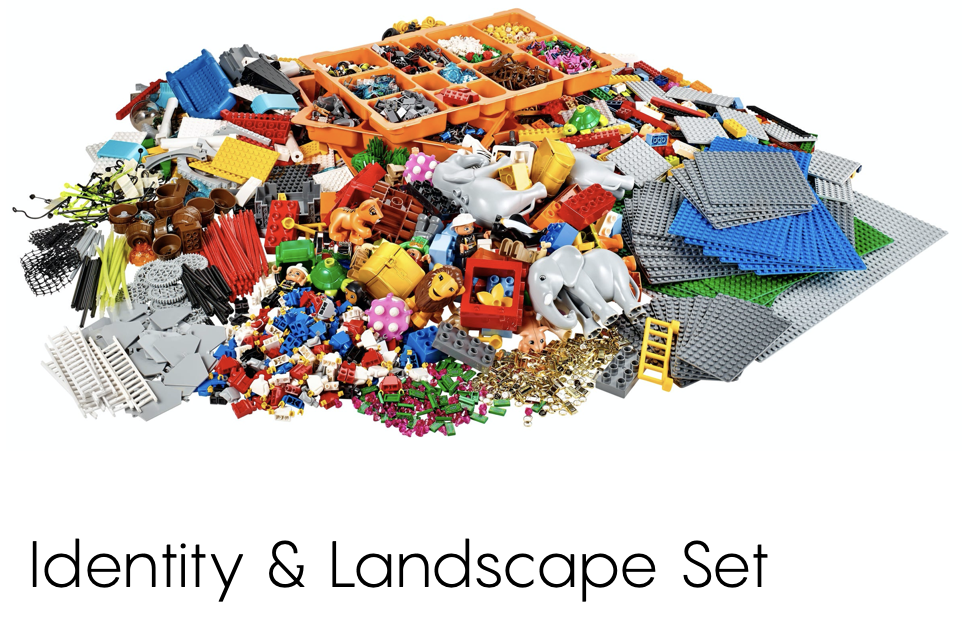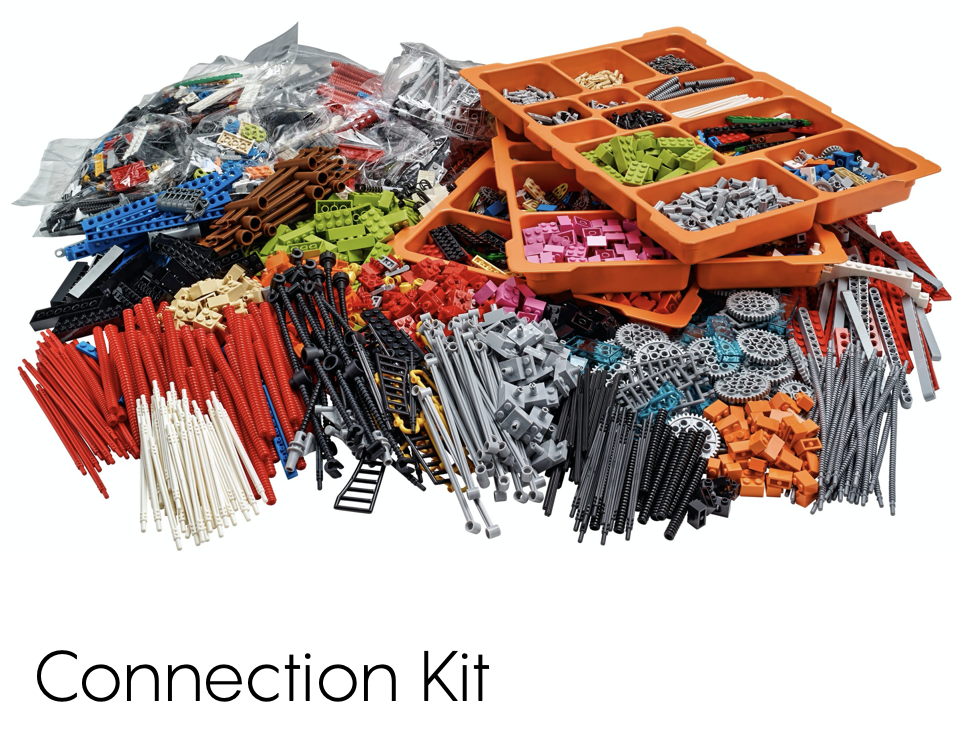 Timer
Since the workshop consists of several steps, you should have a timer that not only assists you but also the participants. Most of them will be in "flow" during the workshop, so they might forget the time.
Room & Basic Equipment
Make sure that the workshop room is not only big enough for all participants to fit in, but also leaves enough room for creativity.
Depending on the number of participants, it should be possible for all participants to be seated around a large table
Don't forget your laptop with the slides and a beamer, so that the participants can follow the workshop not only linguistically but also visually
Use flipcharts to present the rules & etiquettes and the workshop schedule to the participants in the room.
A moderation kit can support your workshop with pens, paper, scissors, etc.
Preparation
You as a facilitator take a very central role in this workshop! You guide the participants with your questions through the Core Process. It is important that you plan the workshop appropriately in advance. Depending on the scope of the session, you may not need all seven application techniques, so you can shorten the workshop. You decide the order and timing – the given order and timing is best practice of the literature.
Step-by-Step Instructions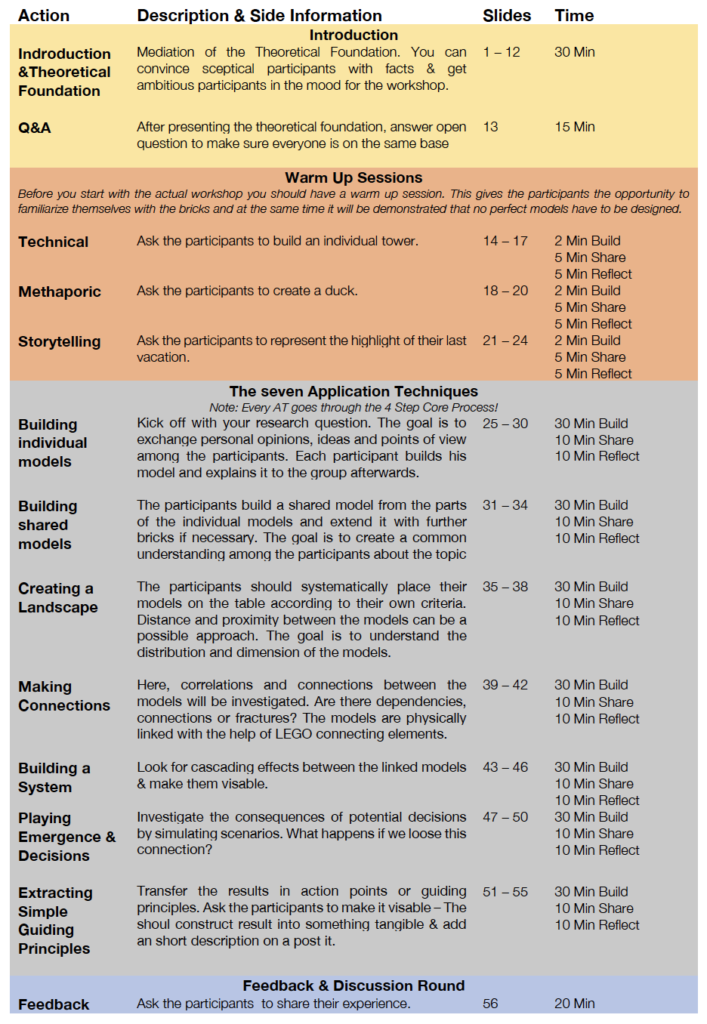 Remarks, Tips, Limitations
Although LEGO Serious Play is open source – The method is protected with to trademarks by the LEGO Group: LEGO (bricks) and Serious Play™. Workshops that use (parts of) the LSP method but do not use a certified facilitator may not be announced and marketed as "Workshops according to the LSP method". (More Information: https://seriousplaypro.com/about/trademarkguidelines/) LSP thrives on interaction with tangible elements and the joint exchange with colleagues at the same table. The use of the method is therefore limited to physical presence and cannot be performed online.
References
Blair, S. & Rillo, M. (2016). How to Facilitate Meetings & Workshops Using the LEGO Serious Play Method. ProMeet
Cantoni L., Botturi L., Faré M., Bolchini D. (2009) Playful Holistic Support to HCI Requirements Using LEGO Bricks. In: Kurosu M. (eds) Human Centered Design. HCD 2009. Lecture Notes in Computer Science, vol 5619. Springer, Berlin, Heidelberg. https://doi.org/10.1007/978-3-642-02806-9_97 (Last Access at: 20.08.2020)
Cantoni, Lorenzo & Decarli-Frick, Elisabetta & Tardini, Stefano. (2014). Lego Serious Play applications to enhance creativity in participatory design. Retrieved from https://www.researchgate.net/publication/275271668_Lego_Serious_Play_applications_to_enhance_creativity_in_participatory_design (Last Access at: 20.08.2020)
Executive Discovery LLC (2002). The Science of LEGO® SERIOUS PLAY® . Retrieved from https://thinkjarcollective.com/wp-content/uploads/2014/09/the-science-of-lego-serious-play.pdf (Last Access at: 20.08.2020)
Frick, Elisabetta & Tardini, Stefano & Cantoni, Lorenzo. (2013). White Paper on LEGO ® SERIOUS PLAY A state of the art of its applications in Europe. Retrived from https://www.researchgate.net/publication/262636559_White_Paper_on_LEGO_R_SERIOUS_PLAY_A_state_of_the_art_of_its_applications_in_Europe (Last Access at: 20.08.2020)
Graeve, F. (2019) A Serious introduction into the LEGO SERIOUS PLAY method. No, seriously…Retrieved from https://www.the-reference.com/en/blog/frank-de-graeve/2019/lsp (Last Access at: 20.08.2020)
Lego Serious Play (2010) Open Source Introduction to LEGO® SERIOUS PLAY® Retrieved from https://davidgauntlett.com/wpcontent/uploads/2013/04/LEGO_SERIOUS_PLAY_OpenSource_14mb.pdf (Last Access at: 20.08.2020)
Münsterland e.V. (2018) LEGO® SERIOUS PLAY® Einführung in die Methode Retrieved from https://www.muensterland.com/site/assets/files/35913/lego_serious_play_d.pdf (Last Access at: 20.08.2020)
Rasmussen Consulting (2018) LEGO® SERIOUS PLAY® T3 Facilitator Training Program. Retrived from: https://www.brickstorming.ca/wp-content/uploads/2018/09/LSP_T3_Program_2018.pdf (Last Access at: 20.08.2020)
Rasmussen Consulting (2012). The Science Behind the LEGO SERIOUS PLAY method. Retrieved from http://seriousplayground.squarespace.com/storage/The%20Science%20Behind%20the%20LEGO%20SERIOUS%20PLAY%20Method.pdf (Last Access at: 20.08.2020)
Saif, E. (2017) LEGO ® Serious Play® 101. Retrived from https://de.slideshare.net/esaife/lego-seriousplay-101 (Last Access at: 20.08.2020)
Contributed by Adrian Preussner.